Huracan and Urus sold out until the end of their production run; to be replaced by plug-in hybrid models next year.
Lamborghini is all set to launch the Revuelto plug-in hybrid supercar in India in December. Revealed earlier this year, the Revuelto is a replacement for Aventador – Lamborghini's flagship supercar. It is the firm's first plug-in hybrid supercar and features an a new naturally-aspirated V12 engine.
Lambo Revuelto to cost over Rs 10 crore on road
Revuelto gets a V12 plug-in hybrid powertrain
Lambo sold nearly 5,400 units globally between January and June 2023
Lamborghini Revuelto powertrain
As mentioned, the Revuelto gets a new 6.5-litre V12 engine that is coupled to three electric motors and a 3.8kWh lithium-ion battery. The naturally-aspirated V12 engine produces 825hp and 725Nm of torque. Combined with the electric motors, the Revuelto produces 1,015hp. Power is sent to all four wheels via a new 8-speed dual-clutch automatic gearbox.
The two electric motors in the front axle power each wheel, while the third one mounted on the gearbox provides power to the rear wheels depending on the drive mode selected. Lamborghini claims a 0-100kph time of 2.5 seconds and a top speed of over 350kph.
Lamborghini Revuelto design
The Revuelto carries on with sharp, edgy and extravagant Lamborghini design DNA that includes the iconic Y-shaped elements all around the car. The headlights and air intakes are set in massive Y-shaped enclosures, along with Y-shaped light signatures. The high-mounted hexagonal-shaped exhausts are flanked by the same light signature is also used for the tail-lights.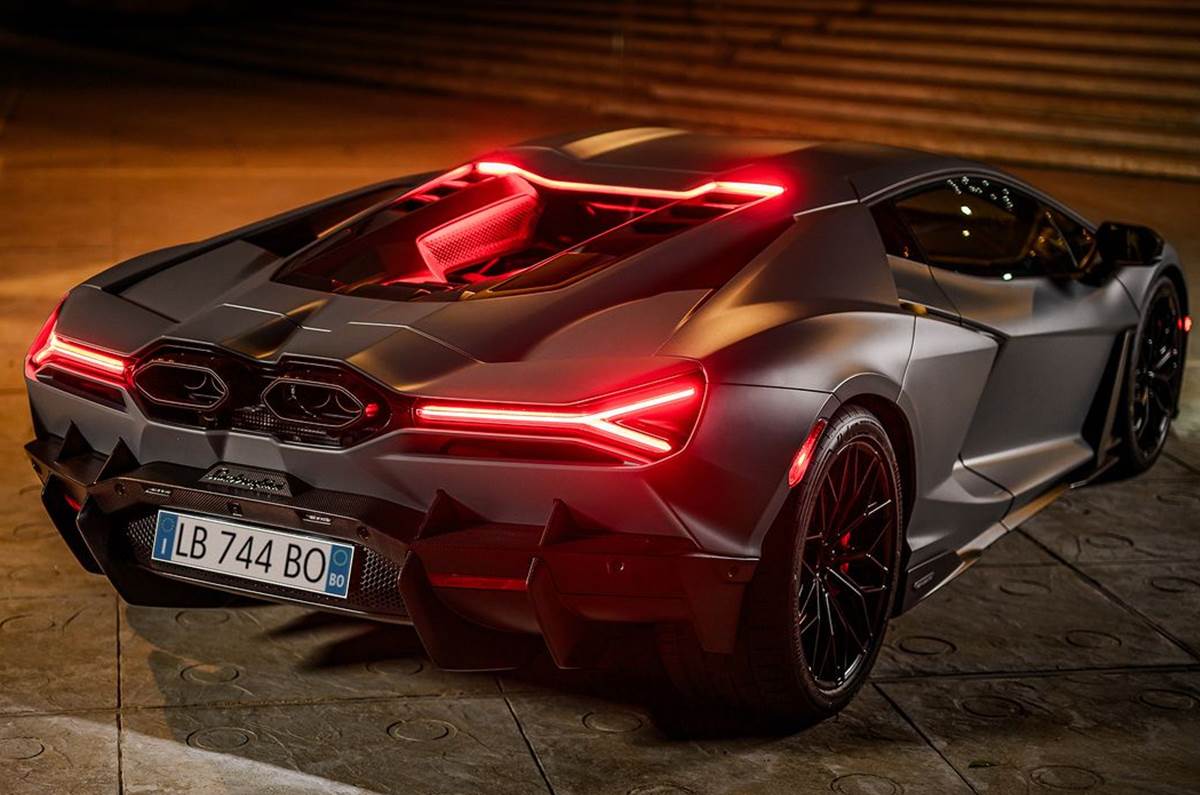 Lamborghini Revuelto interior and features
It still gets the iconic scissor doors, but they now open to a completely new interior that also has the Y-shape design theme influence. Front and centre is an 8.4-inch vertical touchscreen, and it is accompanied by a 12.3-inch digital instruments cluster and a 9.1-inch passenger-side display, both of which can display the same information simultaneously. The three screens have also eliminated most of the physical buttons, apart from the ones on the steering wheel.
Lamborghini Revuelto price
There is no word on the price of the Revuelto yet, but after adding the customs duty and local taxes, it is likely to cost around Rs 10 crore on road. Lamborghini also recently announced that the Revuelto is sold out until 2026.
Lamborghini global sales
Lamborghini has posted yet another round of record-breaking financial figures, finishing the first half of 2023 with increases in sales, revenues and profits. The Italian firm sold 5,341 cars from January to June, a 4.9 percent increase year-on-year.
It cited especially strong demand for the Huracan supercar and Urus SUV in their final months on sale in their current form. Each model will be replaced next year by a plug-in hybrid and is sold out until then.
Lamborghini's biggest market remains the US, where it sold 1,625 cars over the six months, but the UK was its second most important, accounting for 514 sales to just edge past Germany. 
The company's revenues for the six-month period stand at EUR 1.42 billion (roughly Rs 12,887 crore) – a yearly increase of 6.7 percent – and operating income climbed 7.2 percent to a record EUR 456 million (roughly Rs 4,138 crore). Operating margins are at a record high, too, at 32.1 percent.
Also see:
Lamborghini pure combustion engine models sold out: reports
Lamborghini SC63 hybrid Le Mans racer revealed