Tata's electric SUV, the latest addition to our long-termer fleet, is a smooth-running and hassle-free city runabout.
In the three years it's been around, the Nexon EV is no longer an occasional sight in Mumbai. In fact, it's everywhere, and it's hard not to spot one every few minutes, especially if you live in South Mumbai, which I gather has the highest concentration of Nexon EVs in this part of the country.  That it's taken the market by storm is something quite easy to fathom once you get down to living with the Nexon EV, and that's not just because it's an EV, but a brilliant city car as well. Sure, the electric bit is the prime motivator to buy one, but very soon you realise that there's a lot more to the Nexon EV than saving the planet and your fuel bills.
Ease of use makes Nexon EV a very popular city car.
The way the Nexon EV Max drives in traffic is so satisfyingly easy that it makes you lazy to the point you don't want to drive a combustion engine car, which is hard work in comparison, even if it's an automatic. And as automatics go, the Nexon EV Max is the best automatic in our long-term fleet just by virtue of it being an EV. Maximum torque from the get-go, no gears and no jerks or hesitation in power delivery. Just an instantaneous response and a smooth flow of power is what sets electric vehicles miles apart from their combustion cousins for their sheer effortlessness, and the Nexon EV is no exception.
Drive selector is annoyingly sluggish.
All you have to do is twirl a nicely backlit and chunky rotary knob to select Drive or 'D' and off you go. Except that in the Nexon EV Max, this isn't as effortless as it should be. The drive controller has an annoying delay when you toggle from D to R and vice versa, which doesn't help make the difficult task of parallel parking or taking a three-pointed turn any easier. The other issue is that the controller rotation isn't limited between the P, N, D & R settings and rotates both clockwise and counterclockwise freely, so you tend to twirl past the setting you want.
Charge port cover doesn't always open easily.
Other glitches? The charging port cover doesn't release easily and needs a few tugs from the lever inside the cabin. Otherwise, the Nexon EV Max has run like a dream and saved me a lot of money in the bargain. Range? In a month of using it, a rough calculation of the SOC (state-of-charge) and distance run in between 100 percent top ups, suggests a figure of 183km. That's about right for driving enthusiastically in Sport mode most of the time with the aircon on.
Boot was put to good use on multiple trips to the airport.
Two back-to-back airport trips clocked around 120km in a day and with a total of 169km covered since the last full charge, the SOC dropped to 16 percent, at which point Sport mode was deactivated and the throttle response felt milder. More than range, frequent airport trips tested the Nexon's boot capacity, which can't hold more than one large suitcase and a couple of small soft bags and that meant the rear seat had to be dropped when travelling with more luggage.
Good ground clearance is something we expect from any car on Indian roads, but it's a challenge with EVs that have their battery packs slung low. Driving the Mercedes EQS is proof of this and big speed breakers are the nemesis of the German uber luxury EV.
Good ground clearance for an EV helps traverse speed breakers.
The Nexon EV has no such problems and even though the ground clearance is lower by nearly 20mm than the regular Nexon, it happily sailed over the plethora of giant speed breakers on road that lead in and out of our office. Driving the Nexon EV Max, I am also reminded of how good the ride is and the perfectly weighted steering, which is not too heavy and not too light.
I have to confess, I haven't focussed yet on properly monitoring the range, SOC levels and the time taken to charge because my runs have been pretty short. And, with a 11kW charger at the office and one at home, both just 7km apart, worries about charging or range are thus far non-existent. If anything, the Nexon EV has proved to be more convenient that an IC engine because I never have to queue up at a fuel station or swipe my credit card.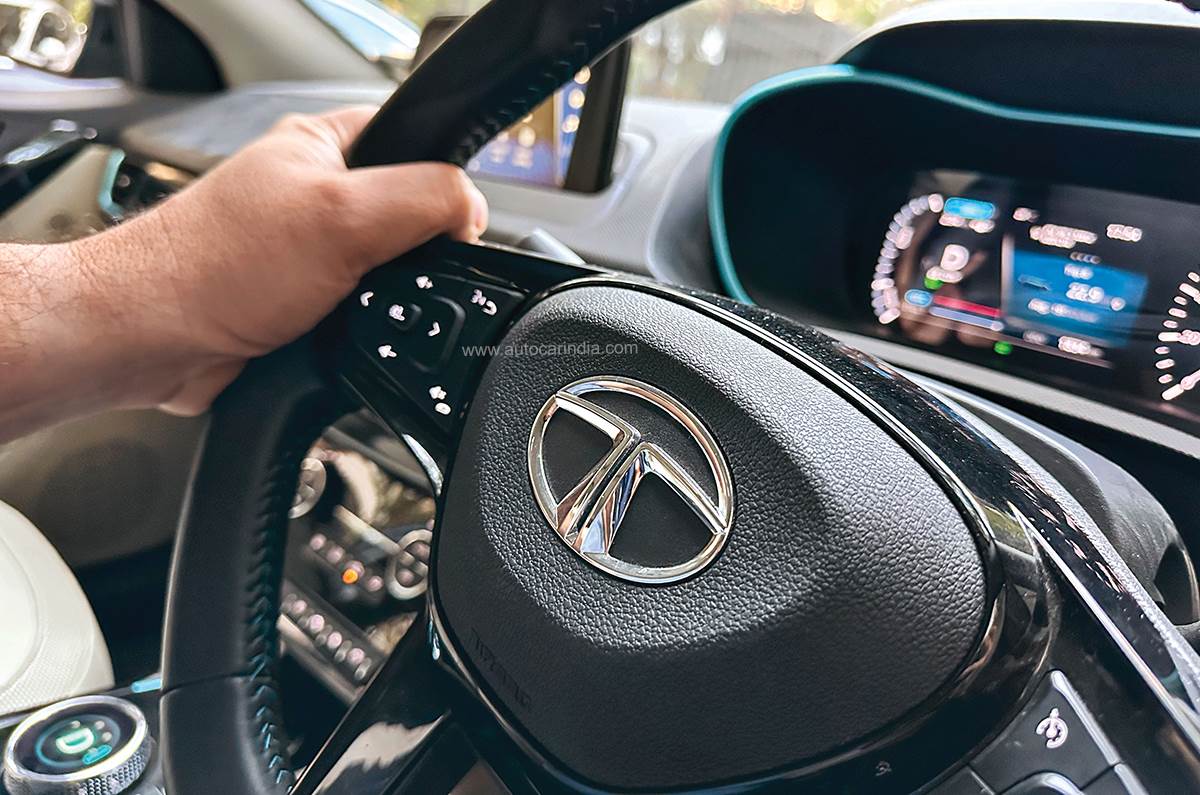 Well-weighted steering a hallmark of all Nexons.
The truth is I have been enjoying the Nexon EV Max just for the way it drives. Smooth, quiet and hassle-free. In the next report, we'll do a more detailed analysis on the real world range, the impact of various modes on the SOC and how long it takes to charge at home, at office (which has a fast AC charger) and at a public DC charging station.
Also see:
Skoda Kushaq Monte Carlo 1.5 TSI long term review, 3700km report