If owning one of the finest handling cars on the planet isn't special enough, there are other ways to make it more so.
During our visit, the studio just happened to be home to four of the most sought-after Porsches on sale today.
There was a time when the Porsche options list was something of an infamous in-joke, not just overseas, but in India, too. At one point, over a decade ago, the Cayenne was listed with an incredibly enticing sticker price, only for its curious buyer to quickly find out that this price would get them an almost comically basic car; it had fabric upholstery, if I remember right. Then, by adding even just the bare minimum features you'd expect from a luxury SUV of the time, you could easily double that price. Porsche has long since fixed this, of course, and though its cars command a slight premium, they now come well specced before you get to the options list.
Porsche will go as wacky as you like, like this violet and teal racing bucket seat.
Today, however, the tables have turned, and the joke is on those of us (guilty as charged) who baulked at the extravagant list of optional extras. Personalisation is all the rage, and has transitioned from the world of super-luxury cars down to sportscars and SUVs as well. The reasoning is simple, really – when you're spending so much to buy a car, you want it to stand out from everyone else's, and that's worth spending a little extra on. 
But really, the sky is the limit for how far you want to stretch that 'little extra', as we discovered on a sneak peek into the headquarters of Porsche's in-house personalisation wing, Exclusive Manufaktur, in the brand's hometown of Stuttgart, Germany. 
Porsche Exclusive Manufaktur: paint options
First of all, let's talk options. The first level of these can be found in the online configurator, or even the showroom. Every Porsche comes with a basic set of paid options above the standard set of no-cost choices – paint shades, alloy wheels, dual-tone upholstery and more. And that's just the cosmetic stuff; you can also add feature packs, performance upgrades and 'Tequipment' or accessories. But after these comes the next level, also included within the configurator – options labelled 'Exclusive Manufaktur'. 
Paint is only the start; it's the tiny details that make your custom build special.
These tend to be more expensive and unusual paint shades from a more exotic palette, known as Paint to Sample or PTS, and to show you just how special it is – the 'regular' option of Shark Blue paint costs Rs 5.5 lakh on a 911 Carrera S, while the PTS Mexico Blue paint costs Rs 18 lakh. And really, it's here where the personalisation truly begins. Exclusive Manufaktur options also include painted alloy wheels in everything from matte black to matching the body colour, painted exhaust tips, extended leather in the cabin – colour coded of course – and inlays in carbon, wood or metal. But all this is still pretty conventional.
Porsche Exclusive Manufaktur: the ultimate paint options
If you're willing to throw cost and caution to the wind, the world really can be your oyster. The highest tier of personalisation is called Sonderwunsch, which translates to 'special wish', and what you get here is completely bespoke. 'PTS Plus' colours can be created from scratch based on swatches, images, or simply matched from any object you can provide (paint for a Carrera S here costs Rs 23 lakh). In fact, you can even have the colour named after you, your family or your company, and it will only be offered to others after your car's model lifecycle is complete.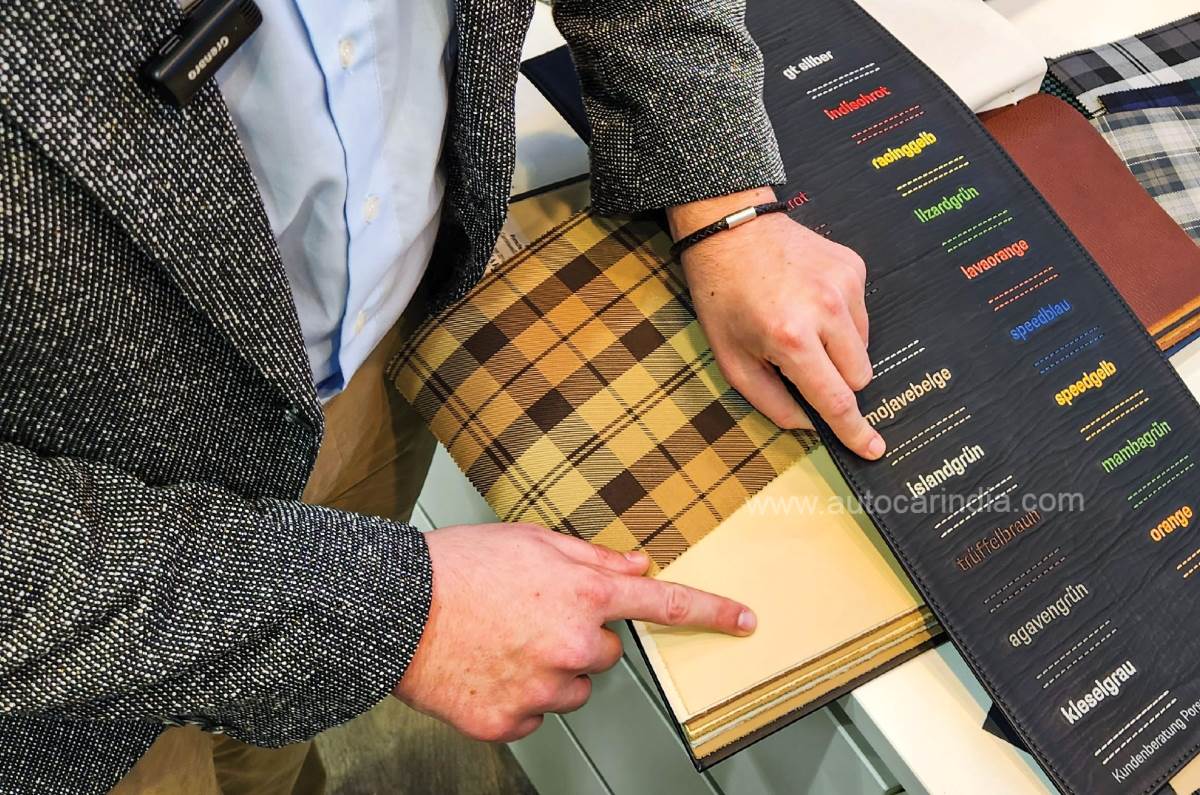 Virtually limitless combinations of fabric, leather, stitching and materials can make your Porsche truly unique.
Then there's the upholstery, which also comes in a whole new set of colours and materials, where even individual surfaces of the cabin can be mixed and matched. Tartans, houndstooth, cross-hatch; the works. You can have custom patterns and textures woven in, or maybe your family crest into the headrest. You can also have matching luggage and accessories made to go with the car. In fact, 
the most expensive Sonderwunsch car they'd ever made was on display – a 992 Turbo S coupé with custom pinstriping, painted wheels and badges, and a multi-layered interior. The paint job alone is worth Rs 3 crore. 
The most expensive Sonderwunsch commission ever. The donor car costs Rs 2 crore; its paint costs Rs 3 crore.
But it's the process that, for many, makes it worthwhile. For a start, your car is built at the factory (see box) with its mechanical configuration locked in place, and then it's brought to Exclusive Manufaktur where it is dismantled. It's then repainted and upholstered to your desired specification and then put back together again. Before this, you are invited over to the facility to create your personal work of art at the in-house atelier, where they show you your options, offer suggestions and tell you where you can go from there. Some things are off the cards, of course – unethical materials, or those which would compromise the working of the vehicle, for example.  
Porsche Exclusive Manufaktur: inside the factory
Fascinating as it was seeing an online car configurator come to life in real-life metal, leather and carbon, it was something else that stirred the nerd in me. It wasn't our visit to the Porsche Museum, which was a celebration of seven decades of motorsport and high-performance road cars. Nor even the underground garage where, amongst other things, a 911 Dakar prototype was having the sand cleaned out of its innards. 
It was a guided tour of the factory that produces the 718 and 911, which is far more awe inspiring than you might think. Sadly, we weren't allowed to photograph anything, but here's a few things I learnt: 
The cars are built not in batches, but in the order they are booked, so at a given time, the line could have a base Cayman, followed by a 911 GT3 RS, then a Targa 4 GTS and maybe a 718 Spyder. 
Since the mechanical customisation – engine, gearbox, drivetrain and body style – and the aforementioned cosmetic personalisation create so many possible combinations, there is a bar code on each chassis that contains its exact specification, and the relevant parts are autonomously sent to each fitting station on the line as the car arrives there. 
The 911 has its gearbox mounted ahead of the engine, while in the 718 it sits behind (both powertrains are notoriously hard to see under the bodywork), so the one common engine shared by both cars – the 4.0 – is basically flipped around before installation.
The upholstery is all stitched and installed by hand; discarded leather scraps too small for the seats are sent to Exclusive Manufaktur to make the matching key fob pouches. Or, as our tour guide jokes, sold to neighbour and rival Mercedes-Benz.
Porsche Exclusive Manufaktur: Custom is king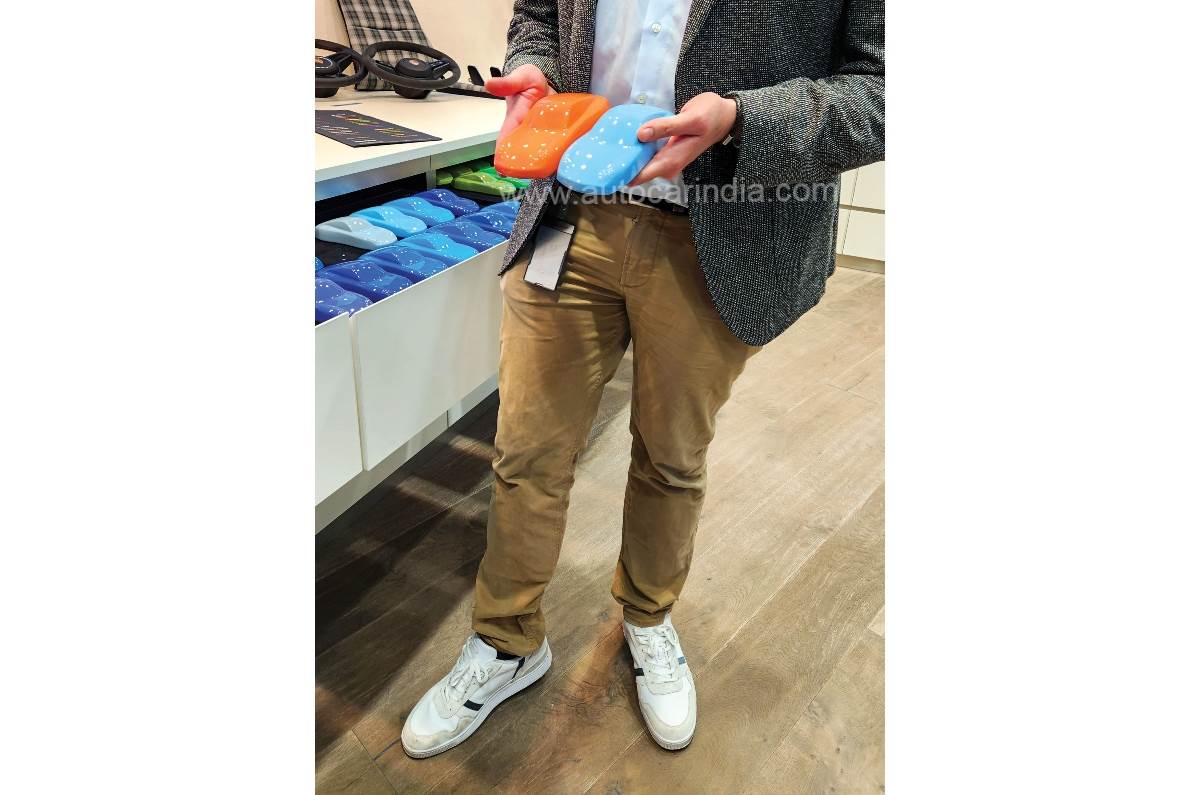 Fancy the iconic Gulf colours? You can see what the paint will look like, up close.
The ultra-elite Sonderwunsch selection will be a rare sight in India, no doubt, but Exclusive Manufaktur has already taken off, and it's not hard to find a number of examples strutting their stuff on Instagram, if not on the street itself. Porsche last year did an official India showcase with some customised cars, and the new showrooms are geared up to accommodate an added level of personalisation for anyone who wants it. Yes, Porsches are known and loved for their unique and tightly honed driving dynamics, more so than some other sportscars, but like all high-end goods these days, they're bought for their flash value too. So, if you happen to be in the market for one of Stuttgart's finest, go on, live a little, get that racing stripe with the contrast Club interior. You only live once.
Also See:
Feature: Polar Precision – Porsche Ice Driving School