Watching the Thailand GP as a part of Ducati's VIP Experience programme comes with some special perks
The VIP Experience gives customers the rare opportunity to visit the Ducati pit garage.
Shuttle services at the Chang circuit were in traditional Thai farm trucks. Great fun!
If you're lucky, you might even meet some of the racers when you get to visit the paddock area.
Getting to see things from Pecco's point of view will put a smile on anyone's face!
For as many years as you may have religiously watched MotoGP on a TV, nothing beats witnessing it in person. Mind you, that's not for the racing, in fact, it's a pretty terrible way to watch the racing because there are no gorgeous slow-mo camera shots, helpful commentary or convenient replays for you to rely on. No, the reason you go to a GP weekend is to experience the unbelievable environment.
First of all, you have no idea how a GP bike actually sounds until you've heard one in person. That's because the TV cameras miserably fail to convey the true violence of these soundwaves. It's a sound that no road-going superbike can dream of making, no matter how free flowing its exhaust is. The noise slams off the walls, reverberates in your rib cage and threatens to tear your ear drums apart. That last part is no exaggeration, carry a set of ear plugs if you plan to be seated close to the action. And that's just the sound of one MotoGP machine. Now imagine a pack of 24!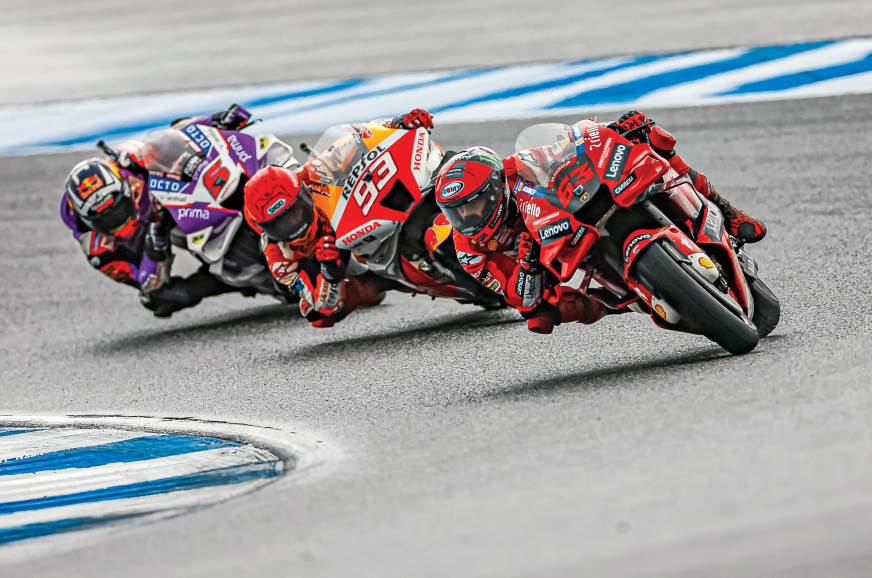 The aural extravaganza of the engines screaming down the straights at over 300kph or simply spitting and raging against the pit lane speed-limiter at 60kph is an emotional thing if you love motorcycles, but that's only part of the attraction. What's almost equally surreal is getting to see your heroes – the greatest riders on the planet – just a few dozen feet away. And if you're a part of something like the Ducati MotoGP VIP experience, you might even get to meet them. 
This is a service Ducati India is now offering to its customers for select GPs, whereby you get to watch the race as a guest of Ducati's and that includes some special perks. The package includes a three-night, four-day stay at a luxury hotel, all local transfers once you land (flights and visas are on you) and all meals. But what adds the 'VIP' to the experience is that you get access to the Ducati lounge at the track where both factory riders briefly stopped by for a short interaction session. The real treat, however, involves being able to visit the 
Ducati garage in the pitlane (Ducati will want me to specify that this is 'subject to availability'). This is a super rare opportunity to get to see the race bikes up close and – if you're lucky – some of the riders as well. This is the first time Ducati India has offered the service, and as with everything that goes with that exotic name, it doesn't come cheap – Rs 1.98 lakh per person. 
Whether you choose to go with the Ducati experience or just on your own, the Thailand GP has a lot of positives, but one big negative. The main issue is getting to the Chang International Circuit at Buriram because it's a 6 hour, 400km drive from the Suvarnabhumi International airport at Bangkok. Finding good hotels near the track that aren't fully booked out months in advance is another challenge. If you can have your transport and accommodation figured out, it's a nice drive on Thailand's wonderfully smooth roads. 
I've had the good fortune of attending a few GPs over the years in Asia and Europe, and the Thai GP has done a superb job of capturing the local culture. For example, the shuttle services in the track were handled by a bunch of local Thai farm trucks, which are a gloriously 'jugaad' sort of creation – you stand in the open back and enjoy the ride. Fat chance of this sort of fun happening in health and safety obsessed Europe. 
The shopping at the village area seemed a bit thin this year, which is probably down to the fact that MotoGP has only just returned to Thailand after the pandemic. What I absolutely loved though was the Bangkok street food style food courts that served up amazingly delicious food at amazingly low prices, although vegetarians will feel a little lost here!
While Sepang in Malaysia is certainly an easier GP to attend, in terms of distance to the city, I think Buriram is worth the pain of all the travel involved, simply because of how well it melds the energy of MotoGP along with the vibe of Thailand. The fact that Thailand is currently one of the easiest and most affordable countries to travel to at this moment only strengthens its claim as a great place to watch your first international MotoGP race.