French design flair makes it stand apart from the crowd but is that enough in the hyper-competitive SUV segment?
Late to the Indian market, Citroen hasn't wasted time and in just a little over two years has brought four products to Indian market, including the all-electric eC3 which gave it a good head start over its multi-national rivals in the EV race. But despite launching fresh, all-new models the French brand has barely made any impact in the Indian market thanks to a step-by-step approach and modest ambitions which prioritises profitability over volumes and market share. However, Citroen is upping its game with the C3 Aircross, the company's fourth and most important model yet. This 4.3 metre long C3 Aircross dives straight into the mid-size SUV segment which is the holy grail for all automakers. For Citroen, the C3 Aircross too is a potential cash cow and a chance to establish itself in the Indian market which can't seem to get enough of SUVs. But, Citroen will have to pull something special out of the box to get a strong foothold in this hyper competitive segment, so is the C3 Aircross which comes with a first-in-class seven seat variant special enough? 
The rear quarter window merges with the rear windscreen to make it look like a wraparound unit.
Citroen C3 Aircross design
French cars have a certain design flair and individuality and the Citroen C3 Aircross is no exception. It looks refreshingly different from other mid-size SUVs and If there's anything familiar about it, it's because it looks related to the C3 hatchback with which it shares the same C-Cubed platform. The front in particular is very similar to the C3 and in fact right upto the B-pillar, the C3 hatch and C3 Aircross share the same sheet metal panels. That's not a bad thing because the C3 is quite distinctive to look at and the C3 Aircross which gets a new lower bumper with a prominent skid plate with a pair of distinctive dummy housings above, looks even better. The air intake above the bumper is now wider which accentuates the width of the car and the Chevron logo finished in glossy black with a silver surround looks classier. The headlamp and DRL cluster is carried over from the C3 and so are the halogen lights. You don't get LEDs, even as an option which is something you now expect in this segment. 
C3 Aircross' unique design has a distinctive French flair.
The side profile of the Citroen C3 Aircross showcases a superbly balanced design which Citroen's designers have achieved by skillfully harmonising the upright stance with a best-in-class 2671mm wheelbase, 4323mm length, tight overhangs, and well-proportioned wheel arches and glass areas. Generous plastic cladding on the doors, a distinctive crease in the rear fender, a two tone roof and fantastic looking 17-inch 'Quadratic' alloys enhances the overall aesthetics even further. The striking C-shaped tail lights, prominent roof spoiler and chunky rear skid plate make the C3 Aircross attractive from the rear as well. 
The two-tone roof and fantastic-looking 17-inch alloys enhance the aesthetics of the C3 Aircross.
Beneath the car, you'll notice that the spare tire is positioned under the floor rather than inside the boot, which can make changing a flat tire a somewhat messy task. Nevertheless, the C3 Aircross boasts a distinctive and unique design, setting it apart from the crowd of SUVs. 
Citroen C3 Aircross interior
Dashboard design is interesting but cabin feels low rent.
To enter the C3 Aircross, you'll have to lift the old school flap-type door handle which has a cheap looking keyhole next to it and the non-foldable key itself looks like it belongs to a budget car from the 1990s. This first point of contact with the car sets the tone for the in-your-face paisa-pinching that abounds in the cabin. Again, the two-tone dashboard is similar to the smaller C3's which means it's stylish, nicely sculpted and full of interesting design details. The steering wheel too is from the C3 and gets an additional of set buttons (with a piano black surround) to play around with the different modes and displays that come with the new customisable and easy-to-read digital instrument cluster.
Front seat cushion a bit thin but driving position comfy. Only manual adjust.
The driver's seat is a touch slim but nevertheless is quite comfortable with right amount of cushioning and though there is only manual adjust it's easy to arrive at the right driving position. Short drivers can crank themselves up to a nice height for good outside visibility and all the controls too are well placed and fall nicely to hand. 
The rear seat is also a comfortable space to be with generous headroom and legroom, even for tall passengers. Though the under thigh support is a tad short, the overall cushioning and high seat position lets you spend long journeys in comfort. Citroen are masters at judging the foam density for their seats which are not too hard and not too soft. 
Rear seat spacious, arm rest only available with five seater variant.
Whilst the five seater variant has an arm rest, you miss the absence of one in the seven-seater version (difficult to engineer along with the tumble function of the second row) but you do get a seat back that reclines instead which is great for long drives.  There's a moderate amount of storage space in the cabin with large door bins and bottle holders for all passengers, cupholders in the front and a reasonably sized glove box. 
Third row very tight for adults and for short journeys only.
The seven-seater or 5+2 seats as Citroen more appropriately terms it, is a master stroke which makes the C3 Aircross the only SUV in its class to offer a third row of seats which can easily  accessed thanks to a smooth tilt and tumble operation of the second row. Sure, the rear seats which are placed on the flat floor are meant only for children but even adults can squeeze in there for short drives.
Third row pair of seats can be removed in under a minute. Useful as picnic chairs.
During a night out with friends, these tiny rear seats prove invaluable, as they can make all the difference between needing an additional car or not. And when you don't need them you can remove them in 20 seconds flat (yes, we timed ourselves!) and either store them away or use them as picnic chairs. With both seats removed you get a clear luggage 511 litres of luggage space (a good 67 litre more than the 5 seater) which jumps to 839 litres with the second row seats folded. You can even remove just one seat and use the C3 Aircross as a six-seater with some luggage space to spare. It's this versatility of the third row, which allows multiple configurations, that is the genius of the C3 Aircross and a great example of clever design that needn't complicated or costly. 
Citroen C3 Aircross features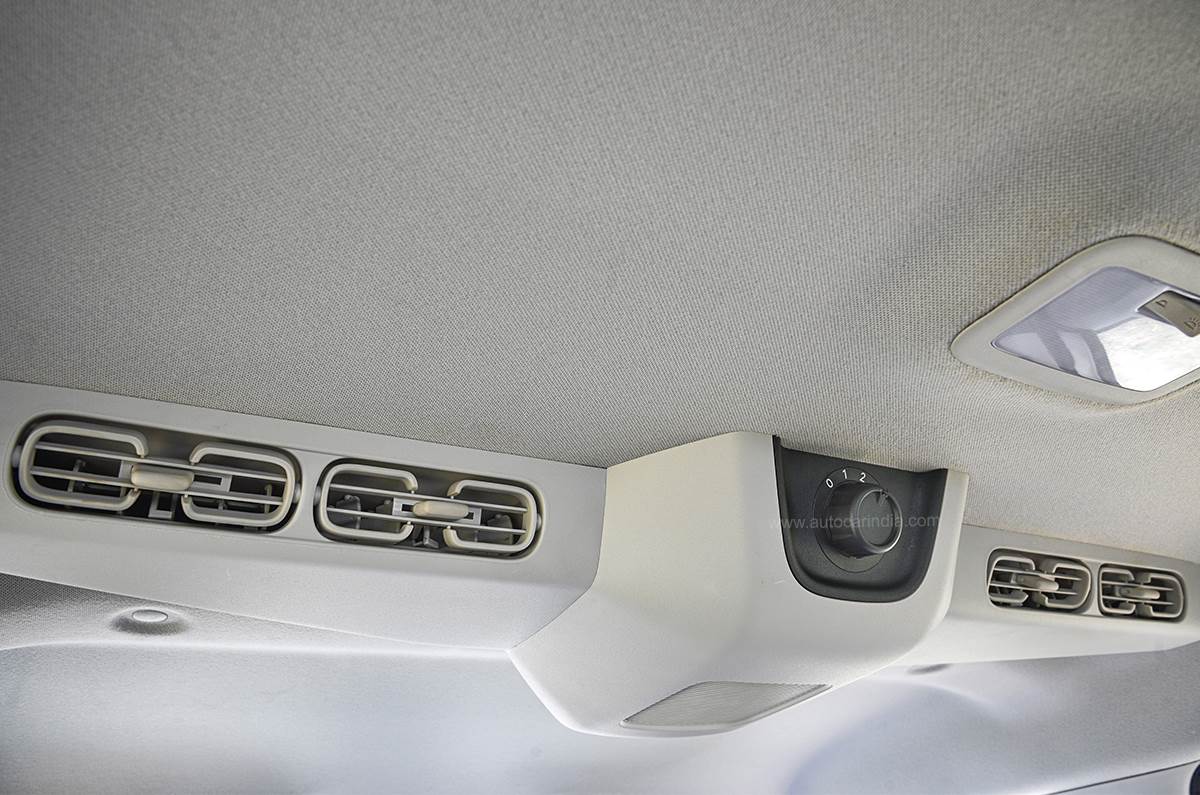 Roof mounted rear aircon vents in 7 seater looks tacky and ruled out scope for a sunroof.
The 10.2 inch infotainment system is the same as the C3's too which means it's slick to operate has a good touch response, clear graphics and also gets wireless Apple CarPlay and Android Auto. You also get a total of 5 USB (Type B and not Type C) charging ports  (including two for the third row of seats), a get a standard rear view camera with reverse parking sensors and just two airbags as part of a feature list that is stingy by class standards. The C3 Aircross doesn't come with one of the most desired features in an SUV today – a sunroof. What were Citroen product planners thinking?
All digital instrument cluster has multiple displays and modes.
Start poking around the cabin and you'll quickly discover where Citroen's accountants have had the final say. Most obvious is the clunky set of knobs to manually adjust the aircon controls instead of an electronically actuated system which even hatchbacks get today. On the five-seater version there are no rear aircon vents at all whilst the 5+2 variant gets a tacky looking roof mounted rear vent but the good thing is that it gets a strong three-speed blower to effectively cool the back row. Other annoying bits of cost cutting are, no grab handle for the front passenger, and whilst there's a one-touch auto down function for all windows, there's no auto up. Why? Because that would have meant installing an anti-pinch function (a mandatory safety requirement to prevent injury) which would have added to cost!
You need long hands to operate the rear windows.
Like in the C3, the rear window switches are not present on either the rear doors or the driver's door. To reduce costs, a single pair of switches is provided for both front and rear passengers, inconveniently positioned between the front seats. This silly placement of the switches which also precludes the use of a central storage box and arm rest  drew a lot of flak in the C3 and in the more expensive C3 Aircross (which gets basic fold down armrests attached to seats) it's even more unacceptable. Citroen knows this but given the long lead times for design and engineering, it will be awhile before any changes can be done. There's no wireless charging either and whilst the shelf in the centre console is big enough to take the largest smart phones, it doesn't have a lip nor is it rubberised so under hard acceleration your phone slips out. It's small details like this which irritate. 
Clunky, manually operated aircon controls look and feel downmarket.
Citroen C3 Aircross powertrain
The C3 Aircross comes with just one engine and gearbox option, the same three-cylinder 1.2 litre turbo-petrol mated to a six-speed manual that powers the higher variants of the C3. There's no diesel option which forty percent of mid-size SUV buyers want but it's the lack of an automatic transmission, that puts the C3 Aircross on the backfoot as it eliminates around 50 percent of the SUV market which has gravitated to automatics  A 6-speed, Aisin torque converter unit is in the works but that won't come before the end of the year. 
Smooth and strong 1.2 turbo petrol is the best around.
We've said this before and we'll say it again, Citroen's turbo-petrol is the best 1.2 litre engine in the market today. Updated to meet to the latest BS6.2 regulations, the latest generation of Citroen's 'PureTech' engine gets the latest software and ECU tweaks but power and torque are unchanged at 110hp and 190Nn respectively The six-speed gearbox has been revamped with a shorter set of ratios than in the C3, to suit the heavier SUV. 
6-speed gearbox is smooth and precise with a short throw.
There's a bit of engine rocking idle that's typical of many three-cylinder motors but the moment you get the revs up all vibrations disappear and in fact, this engine feels incredibly smooth and refined throughout its rev range. The C3 Aircross steps off the line smartly and part throttle response is really good. It's only when you press your right foot down hard that you encounter turbo lag and need to downshift. Keep the revs above 2,500 rpm and you get a strong, linear tug all the way to the 6,200 rev limit. Whilst the Aircross may not be as quick as more powerful rivals, you're rarely left wanting for more power and we were truly impressed with the way the C3 Aircross briskly gathered pace. Flat out acceleration is strong, the zingy engine has a willingness to rev and a smartly stacked set of ratios drops you in the meat of the powerband with every upshift. The engine's mid-range is particularly strong which makes overtaking easy and highway cruising a breeze. Whilst a bigger and more powerful engine would be nice to have as an option, the 1.2 turbo effortlessly does the job. 
Old fashioned key doesn't belong in a 2023 SUV.
The short throw 6-speed manual is also brilliant with smooth, precise shifts that makes gear changing a joy but the clutch is a bit snappy and needs careful modulation. Driving in bumper-to-bumper traffic underscores the need for an automatic at the earliest. 
Citroen C3 Aircross ride and handling
Comfort has long been a Citroen hallmark and the softly sprung C3 Aircross sets a new benchmark for ride quality in the mid-size SUV segment. Low-speed ride is phenomenal, the suspension soaks up rough edges, potholes and ruts like a velvet sponge. This soft edge makes to the C3 Aircross a very comfortable car to ride in. At high speeds, the Aircross tends to bob up and down a bit, especially at the rear and a firmer rebound damper setting would have given a flatter ride. However this would have corrupted the all-important ride comfort at moderate speeds and bad roads and hence the suspension set-up is a happy compromise best suited for everyday use. Besides, straight line stability is fantastic thanks to the long wheelbase and the steering like we experienced in the C3 hatch is again one of the best around. It's light at low speeds, weights up perfectly as you go faster and has little slack around the straight ahead position which lets you drive with precision and control. In fact, at speed, the C3 Aircross is a joy to drive with the confidence it inspires. 
200mm ground clearance and short overhangs allows it to indulge in some off-roading.
To showcase its  ground clearance and short overhangs, Citroen organised an off-road course that was more for a Jeep. Yes, the C3 Aircross clambered over obstacles with ease and the sharp inclines were a good test for the hill hold function which worked rather well.
Citroen C3 Aircross verdict
Despite being softly sprung, the C3 Aircross is a tidy handler.
There is so much to like about the unconventional Citroen C3 Aircross which in many ways is a breath of fresh air in the mid-size SUV segment. The standout design and innovative three-row configuration makes it unique in a clutter of mid-size SUVs that all follow a similar template. The 1.2 turbo-petrol is a jewel of an engine and when it comes to ride comfort the C3 Aircross is in a different as well. Sadly, great product engineering can be undone by poor product planning and whoever specced the C3 Aircross has little understanding of the Indian consumer. Offering just a single petrol engine with no diesel or automatic options seriously limits the Aircross' appeal but what's worse is the lack of features and the in-your-face cost cutting. The C3 Aircross is a no-frills car that will need a no-frills price tag if it is to have a fighting chance. Prices will be announced in September with deliveries starting in October. Let's hope Citroen surprises us.
Also see: