Updated ZS EV gets a fresh face, better equipment, and most importantly a larger battery pack.
The tiniest news regarding any EV generates a tremendous buzz nowadays. And should the news be about an update that involves a bigger battery and increased range, you can expect a myriad of questions and opinions. And that is pretty much what happened as MG took the wraps off the refreshed ZS EV. Sure, it looks a lot more modern and "EV-like" now, but truth be told, the design changes were shrugged away like extras on a film set to make way for the elephant in the room, the extended range. After all, it is single-handedly the most important aspect in an EV, and the only one that buyers want to know a whole lot about. So, let's start with that then.
New MG ZS EV: battery
Where the older version got a 44.5kWh battery pack, the new ZS EV gets a larger 50.3kWh unit. It seems like a rather modest gain of just 5.8kWh, but in reality, it is quite significant. Claimed figures are often criticised for being unrealistic, and while that is true, a direct comparison does give a bit of reference. The older ZS, with the smaller battery pack, claimed 419km (ICAT) on a full charge, whereas this new one claims 461km (ICAT); a gain of 42km. These figures are tested in using a specific test cycle so, naturally, real-world numbers will differ. With 100 percent charge in the battery, the updated ZS EV is good for 357km in Eco mode, 340km in Normal mode, and 306km in Sport mode. These figures also fluctuate depending on external factors like driving style, ambient temperatures, and the terrain you drive on as well.
With the larger battery, the new ZS has gained a sizable range of roughly 40km.
But overall, even in the real world, the new ZS adds roughly 40km to the overall range, and for some buyers who want to take their EVs out of town, that's a very crucial and handy increase that can make the difference between reaching your destination or getting stuck just before.
New MG ZS EV: recharging
The recharge time for a larger battery will also be a bit longer, and with the updated ZS, it has increased a bit. With the 7.4kW AC wall box charger, the ZS can charge from 0-100 percent in 8.5 to 9 hours. And 0-80 percent on a 50kW DC charger takes just 60 mins. Then there is the regen, and just as before, the new ZS also gets three levels to alter the intensity.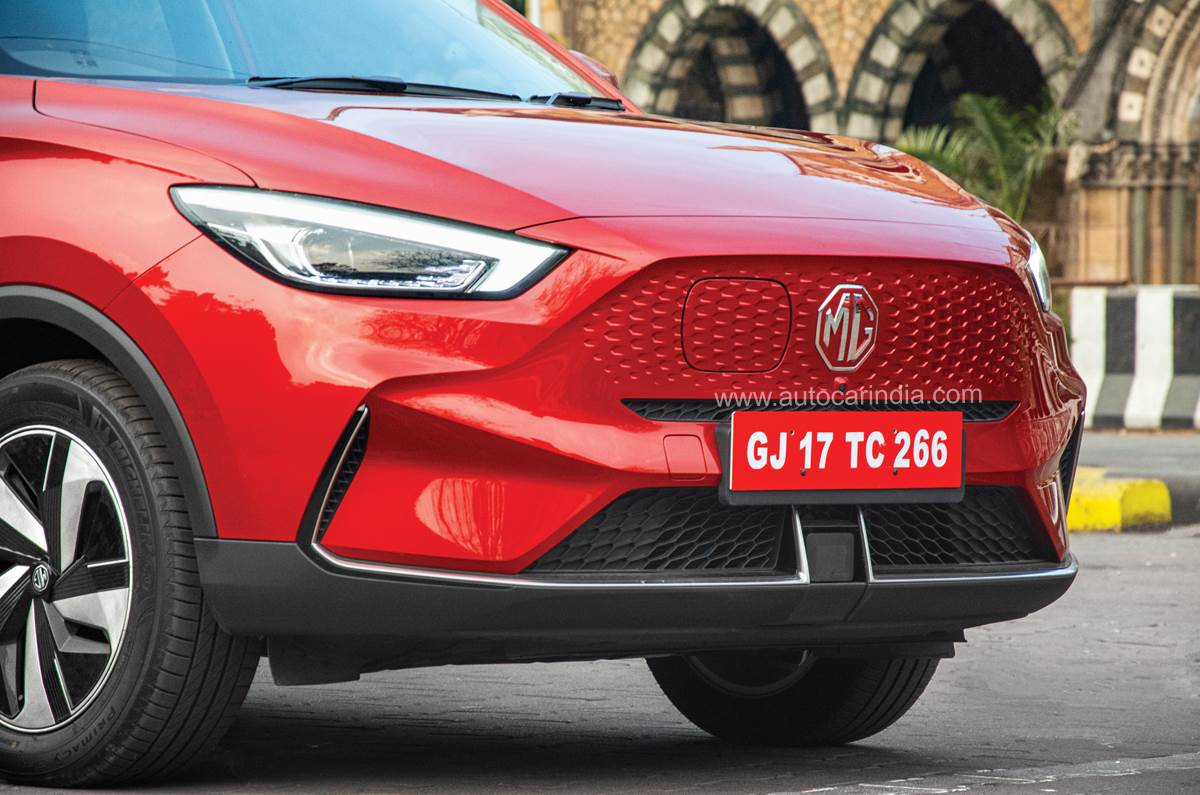 Sleeker and sharper LED headlamps up front; charging port moved to the side of the logo
However, even at its strongest level, it still falls short of making use of the full potential. If the regen is set to the mildest first level and you brake from triple-digit speeds to a dead halt, the regeneration will only be to level 1 and not all the regen force available. Also, there is no display of how much range you are gaining by using just the regen, a feature they could have added as part of the digital instrument cluster.
New MG ZS EV: performance
What the larger battery pack has also brought with it, is a gain in power. The updated ZS EV now gets 176hp (33hp more than before) but with lesser 280Nm of pulling power (70Nm down on the older car). MG Motor India says this tweaking of the power and torque output has been done to optimise the balance between range and performance of the bigger battery. Speaking of which, despite the gain in power, the new ZS EV is almost the same in terms of performance.
There is more power on offer but the motor has been optimized for a balance between efficiency and performance.
Going from 0 to 100kph takes 8.4sec (the older car was 8.5sec) and there are only fractional differences with the old car in the 20-80kph and 40-100kph acceleration times. What has changed though is the top speed, which is now 180kph (28kph more).
Larger 10.1-inch touchscreen is crisp and responsive; 360-degree camera helps parking
In terms of driving though, it feels brisk and zippy. Surprisingly, even in the most conservative Eco mode, the ZS EV has plenty of poke to make small gaps and overtakes. Normal and Sport, of course, are a bit more enthusiastic, but you never really feel the need for extra grunt while in Eco, and you also get a bit more range, so it's best to use that mode as the default setting to nicely balance out range and performance. The new ZS EV handles the same as before, which is in an easy but engaging way. It's light and pleasant to punt around town and that's the environment for most owners. The ride has an underlying firmness at city speeds, but once the pace is upped, it settles down very well. Overall, this is a very comfortable car that's effortless to drive.
New MG ZS EV: exterior
Visually, the new ZS is still very much a ZS from every angle, but it gets more EV cred thanks to the closed off grille at the front. The charging port that was under the big MG logo has been moved to the side and the new bumpers are the most prominent revisions. The metal accents, along with the sleeker headlamps that now get LEDs in them, add a bit more drama.
The ZS EV also gets new design for the alloy wheels. 
The big 'electric' badges still sit proudly on the fenders and replacing the windmill design for the wheels gives a sharper look that is more in line with the times. The rear is also neater and crisper now thanks to the revised bumpers and angular tail-lamps.
New MG ZS EV: interior
On the inside, the ZS has been revamped more in line with its petrol-powered cousin, the Astor. You miss out on the lovely Sangria red upholstery or the signature robot on the dash, but what you get is superb build and quality, and an overall fit-finish that is worthy of a car in this price bracket.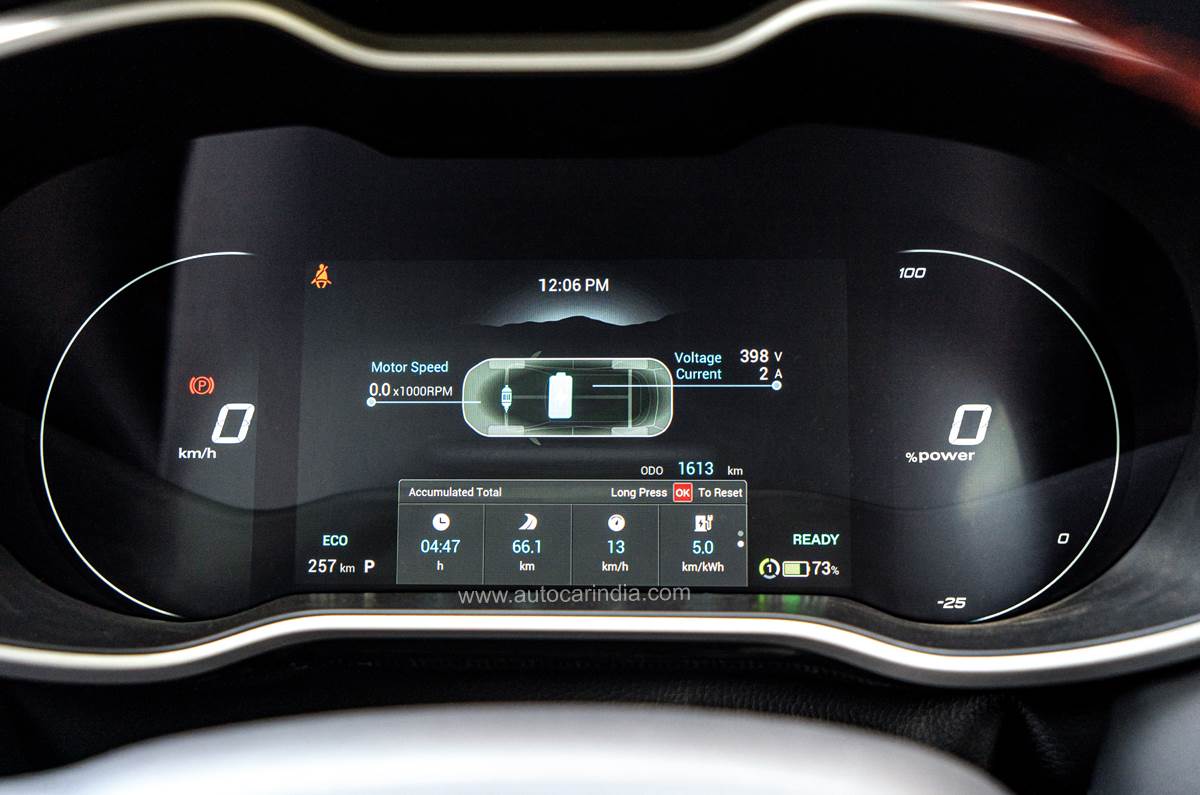 7.0-inch instrument cluster looks modern, and offers plenty of information.
Equipment additions include a 360-degree camera, blind spot monitor, rear cross traffic alert, wireless charging and a larger 10.1-inch touchscreen. It is crisp and responsive, but the UI should have been a bit more intuitive and easy to use. There is also a 7.0-inch digital instrument cluster with plenty of information, but some bits like the regen level and drive mode could have been more prominently displayed.
Blind spot monitor is rather useful while driving in traffic.
At the rear, space is the same, which means roominess isn't a big issue, however, you are seated knees-up and that's not too comfy on a long drive. You still get the lovely panoramic sunroof and with this update MG has also included rear AC vents, a centre armrest and 60:40 split for the rear seats.
New MG ZS EV: should I buy one?
Priced at Rs 25.88 lakh, the top-spec Exclusive trim is on the steeper side. There is also a less expensive Excite trim (Rs 21.99 lakh) which misses out on some kit, but still gets the same battery. So, if it's just range you are looking for, then the Excite trim makes more sense. Compared to the bestselling Nexon EV, this all-electric MG is a massive Rs 8.73 lakh more expensive but it's a superior product in most respects and as a city car, with an occasional weekend drive thrown in, the ZS EV is just about perfect.