As Apollo Tyres, one of the world's top-tier tyre manufacturers, completes 50 years, we take a detailed look at the genesis of the company, its remarkable growth and the driving force behind it.
The story of Apollo Tyres is the story of a family, a company and a country. Founded in 1972, the Apollo brand is the preferred choice of tyres for global and Indian original equipment automobile players. Its products are available across all categories, including commercial, passenger vehicles, two-wheelers, farm and industrial.
Onkar Kanwar, Chairman of Apollo Tyres, has transformed his company from a single plant in Kerala to being a premier producer in India with over 19,000 employees and an annual turnover of over $2.8 billion in FY2022. Over the decades, the company has evolved in response to changing times, adopting best-of-breed technologies and globally acclaimed industry practices. This has enhanced its industry reputation and recall. Today, it is one of the most trusted brands globally in tyre manufacturing and sales.
Every journey begins with a small step and along the way the path takes on a greater meaning. As India completes 75 years of independence, it is interesting to note that Apollo's journey has traced India's growth. Since its birth as an independent nation, India has transformed into a powerhouse in many areas such as science, technology, commerce, industry, arts, culture, sports and more. It has been an extraordinary journey that has inspired not only the sub-continent, but the entire world. And the journey of Apollo Tyres is no different.
The Genesis 
Apollo Tyres started its operations in 1972 with its first manufacturing plant at Perambra in Kerala and following the laying of the foundation and setting up of the plant, the first tyre was produced in 1977. The company was established by the late Raunaq Singh, father of Onkar Kanwar, and it soon became a leading player in India's tyre industry. In 1980, Onkar Kanwar boldly took over the running of the company. He inspired and led a team of capable young professionals and ensured that the company grew in the face of many challenges.
1975: Foundation stone-laying ceremony for Apollo Tyres' first plant in Perambra, Kerala.
In 1988, the company launched its first series of heavy and light truck tyres and a year later, the XT-7, which became India's largest selling truck tyre, was launched. In the late 1980s, the company decided to open a second manufacturing facility in the country and after scouting for a suitable location nationwide, Apollo set up a manufacturing plant in Limda, Gujarat, in 1991. Later in 1995, the company acquired Premier Tyres Limited, a Kerala-based manufacturer of tyres and tubes. By the end of the last century, Apollo had not only become India's leading tyre majors but the country's top manufacturer of radial tyres.
International expansion 
From early 2000s, Onkar Kanwar had been grooming his son, Neeraj, the current Vice Chairman and Managing Director, to help him run Apollo. The father-son duo then set off on a bold journey of expansion and established a larger international footprint. In 2006, the company took its first major step outside India with the acquisition of Dunlop South Africa and Zimbabwe.
A pivotal moment for the company came in 2009 when Apollo Tyres acquired Dutch tyre maker Vredestein, gaining a foothold in the lucrative European tyre market and raising its then annual turnover by a quarter. The strategic acquisition of one of the most profitable tyre makers in Europe provided the company direct access to Vredestein's large market in Europe.
Apollo Tyres' Global R&D Centre in Enschede, The Netherlands.
The company's global foray strengthened with the launch of the Apollo brand in Europe in mid-2010. Its international footprint grew in 2013 as Apollo opened its global research and development (R&D) centre in Enschede, The Netherlands, which would serve as a hub for the development and testing of car and van tyres for all product brands. Then, in 2017, in a reflection of its growth aspirations and manufacturing capabilities, Apollo Tyres inaugurated its first greenfield facility outside India in Hungary. "From being a replacement market focused company in Europe, we would soon be starting supplies of our tyres to all the leading OEs in Europe," Onkar Kanwar said at that time.
India growth journey 
Even as Apollo Tyres was fulfilling its international aspirations, the company continued strengthening its position in the Indian market. In 2016, it had announced its entry into India's two-wheeler tyre segment by unveiling a range of tyres for motorcycles and scooters. Called Apollo Acti, the range of tyres were designed and developed at the company's R&D centre in Chennai. Then, in a move that supercharged its brand, in 2018 the company roped in Sachin Tendulkar, a global sporting icon as its brand ambassador.
Onkar Kanwar, chairman, Apollo Tyres, and Neeraj Kanwar, vice chairman and managing director, with brand ambassador Sachin Tendulkar
The company's landmark and much awaited announcement came in 2021 when it launched the premium Vredestein brand in India with the tyres manufactured at the company's state-of-the-art facilities in the country. Commenting on the launch, Neeraj Kanwar, said, "Vredestein is synonymous with premium styling and ultra-high performance, which are the two most important factors considered by owners of luxury cars and superbikes. I am confident that, with Vredestein, a domestic international brand, we will become the dominant player in the luxury segment in India."
The way forward 
The current and future scenario for Apollo is both exciting and encouraging. The company closed FY2022 with consolidated revenues of Rs 20,948 crore, a strong growth of around 20 percent. The growth was led by its India operations, which grew by a robust 25 percent. The Europe business saw a healthy growth of 18 percent.
"We will continue to make steady progress in all our growth pillars, and I remain confident that Apollo Tyres is on a firm growth trajectory. We will continue to build on our successes around cost control, improving process efficiency and leveraging technology," said Onkar Kanwar in his latest annual letter to company shareholders.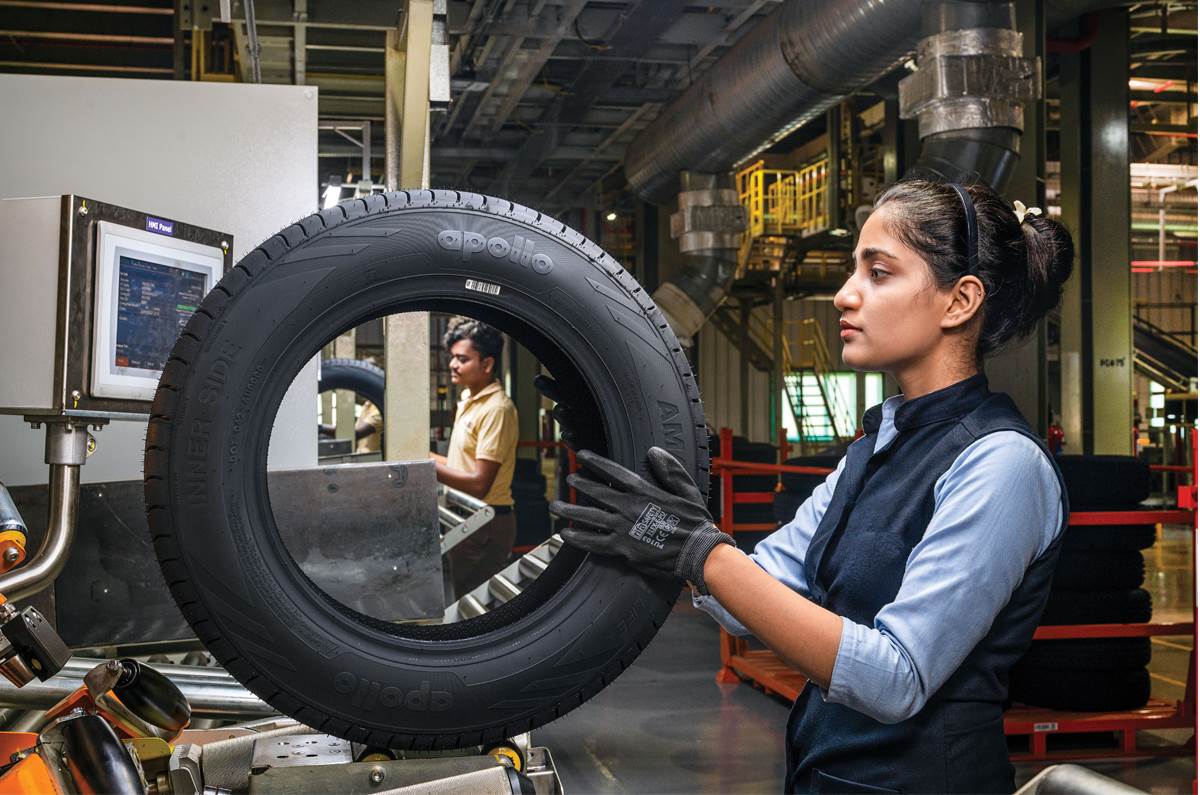 Apollo Tyres has five plants in India and one each in Hungary and The Netherlands.
Apollo Tyres has been built on the philosophy of enhancing its shareholders value by ensuring consistent, profitable and sustained growth since its inception. This has seen the company take decisions that might be against the grain of conventional wisdom, but thanks to such bold decisions it has never deviated from its path of profitable growth. According to Neeraj Kanwar, the next few years for Apollo would involve a rapid movement towards their vision with a focus on its growth pillars, including digitalisation and sustainability. "The increased usage of AI and Machine Learning in our operations will help us improve on our manufacturing efficiencies, and debottleneck our existing facilities. I am also looking forward to the Supply Chain getting integrated, which will make the entire process seamless. With several projects underway on increased usage of renewable energy, sustainable raw materials and scope 1, 2 and 3 emissions, next few years would be key to our journey towards being a carbon neutral company by 2050," said Neeraj Kanwar.