Taiwanese major and Apple phone manufacturer Foxconn will expand its operations in Tamil Nadu by pumping in ₹1,600 crore in a new factory in Tamil Nadu to manufacture mobile components, source said.
The plant will generate employment for around 6,000 people, the source said.
The Foxconn Chairman Young Liu met Tamil Nadu Chief Minister M. K. Stalin on Monday to discuss the company's investment in the State.
Foxconn Chairman Young Liu, TN Industry Minister TRB Rajaa and Guidance Bureau TN – MD and CEO Vishnu Venugopalan at the IIT Research Park, in Chennai on Monday
| Photo Credit: BIJOY GHOSH

Last week, senior officials from Foxconn's India office met Stalin.
Today's meeting also assumes significance as the Taiwanese major, which already has a strong presence in the State, is scouting for a place to establish its semiconductor unit and also set up component units.
Foxconn recently withdrew from its semiconductor joint venture with Indian mining conglomerate Vedanta.
On Friday, Liu met Prime Minister Narendra Modi in Gandhinagar, where he participated in the three-day 'SemiconIndia 2023' conference. He affirmed that Taiwan is and will be India's "most trusted and reliable partner".
State Industry Minister TRB Rajaa said, "Foxconn's repeated investments and expansion plans in Tamil Nadu are a testament to the state being the top choice for manufacturing in India for major companies across the world. This is a major achievement for the state.
Also read: Foxconn says committed to India, to apply for govt incentives separately
With this proposed investment, and many more to come, Tamil Nadu is poised to not only remain the top electronics exporter in the country, but also significantly increase its electronics exports in the coming years. This will play a critical role in attaining our Chief Minister's ambition of a $1 trillion economy in Tamil Nadu."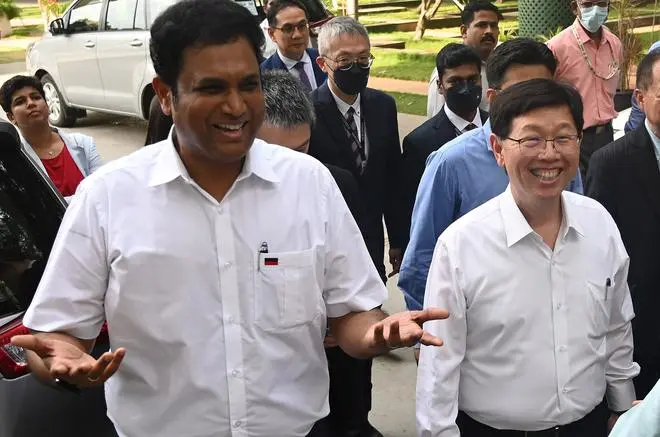 Foxconn Chairman Young Liu and TN Industry Minister TRB Rajaa, interacting with media persons at the IIT Research Park, in Chennai on Monday ( July 31, 2023)
| Photo Credit: BIJOY GHOSH

Location of the unit

Talking to reporters at the IIT Madras Research Park, he said Chennai is the biggest site for Foxconn in India. "We have many developments in production. We have six or seven buildings being constructed. I am happy to see that it is going well and we have got a lot of support from the government. Definitely, we can do more in future. We have 40,000 workers all together as of today. That's a very important base to grow on."
"We are still working on it," said Young Liu, when asked if Foxconn has decided on a site for its semiconductor project.
Stalin after his meeting with Liu tweeted, "Various investment opportunities in Tamil Nadu were discussed. Investment commitment to establish a mobile component manufacturing facility in Kancheepuram district for Rs. 1600 crore with a potential employment for 6,000 persons was signed in my presence. We also discussed further investments in EV and electronic components. Another milestone in our ambition to make TN the new emerging electronics manufacturing hub of Asia."