The market share of entry-level smartphones, priced below ₹8,000, has declined faster than expected in the last five years. According to an analysis done by Counterpoint Research, the market share for smartphones in this price band has declined from 36 per cent in 2018 to 12 per cent in 2022. In 2018, it was the leading price band according to Counterpoint. However, as consumers move towards more features or high-end specifications, the market share of entry level smartphones has declined significantly. 
The most precipitous drop came in 2020 when the market share declined by 8 per cent from 30 per cent in 2019 to 22 per cent in 2020. "During 2020, the segment was impacted by the Covid-19 pandemic and was felt most at the bottom of the pyramid. They postponed their purchases to save money for necessities. In 2021 there were supply issues due to the global component shortage which affected this segment the most," the report said.. The market research firm further added that macroeconomic issues such as inflation, unemployment etc also had a significant impact on customers in this segment.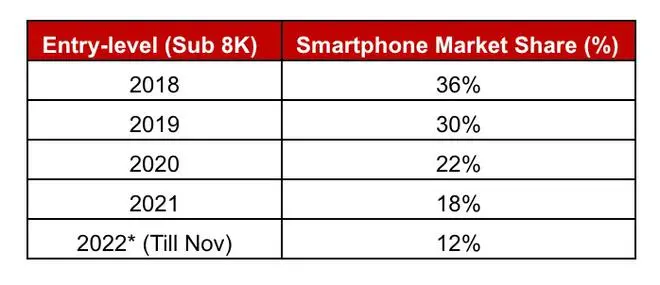 In line with the trends seen in the smartphone industry overall, the average selling price is also rising in the sub-₹8,000 segments. It was around ₹5,591 in 2018, which has risen to ₹7,126 in 2022. "With components becoming costlier due to the shortage in past, inflation and increased forex rates, the cost of phone has seen a substantial rise over the year, leading to the increasing average selling price," Counterpoint Research said,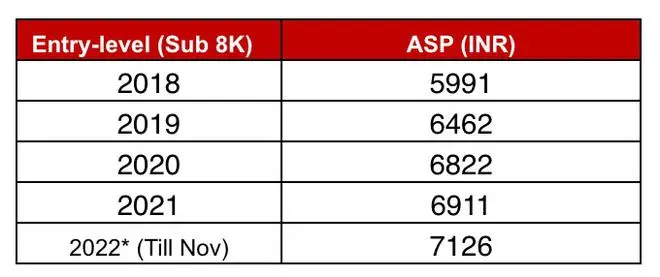 Rising smartphone prices, especially at the entry level, have resulted in a stall in the growth of India's mobile broadband subscribers. After seeing compounding growth in mobile broadband users between 2014 and 2020, growth has mostly flatlined in the past two years according to the mobile subscription data provided by the Telecom Regulatory Authority of India. As of the second half of 2022, there are 789 million mobile broadband users in India. This number is not increasing at a substantial rate, especially as telecom operators and smartphone makers are struggling to provide mobile internet connectivity to the lowest echleons of the Indian society.